Get all the information you need on upcoming events at Covenant Church. You can also register/sign up for events and sign up to help! Events are a great way to meet new people and let us get to know you better. We believe in making Kingdom connections with each other, through events and small groups.
CovLadies and girls 7th grade and above - Don't miss our Fight Time Conference coming up in January!
Learn More
CovConnect Classes & Small Groups Every Sunday & Tuesday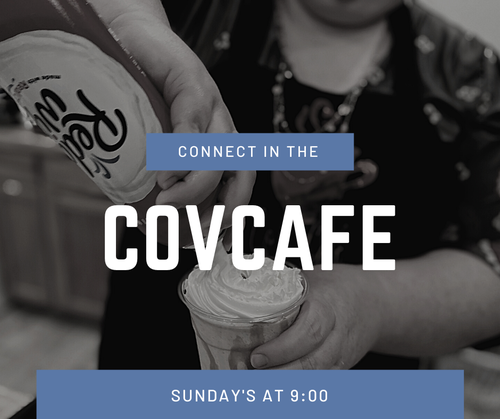 Sr. Pastor Jan Pate teaches a Newcomers class every Sunday morning. This class is great if you and your family are new to Covenant and you're sure to love it! Meet in Room 101 at 9:00.
Get your hot or iced coffee in the CovCafe and meet someone new! We offer a variety of drinks, breakfast items and snacks you'll enjoy. Grab a seat at a table and meet a new friend!
Casey Guidry leads our amazing Welcome Team and is always looking for new people to connect with. Meet her and her team every Sunday in the lobby at 9:00 or ask to join her team.
If you love to sing the CovChoir is for you! We meet every Sunday morning in Room 212 (the room to the right of the stage) at 9:15 for practice. We'd love to have you join!
Every Tuesday from 12:00-1:00 our sanctuary is open for come and go prayer or you can feel free to stay for the duration of the hour. We focus on specific prayer needs each week.
Casey Guidry leads our CovLadies Bible Study every 2nd & 4th Tuesday downstairs in the Glendale Pate Education Center. Feel free to bring your lunch and get ready to learn!
Celebrate Recovery is for anyone with hurts, habits and hang-ups and begins at 6:00 on Tuesday's in the Glendale Pate Education Center. Don't suffer alone, there is hope in Jesus Christ!
Bryann Trejo | Special Worship Night
Covenant Family Holiday Dinner
We're having a special worship night on Wednesday, December 1st at 6:45 featuring Bryann Trejo the founder of Kingdom Muzic. We are so excited about this and you don't want to miss it! Students will have regular activities at 6:00 and go upstairs for Family Worship at 6:45.
Join us Sunday, December 19th immediately after service for a family style holiday feast. Bring your favorite family holiday casserole or fixings along with your family and friends! We'll hear a wonderful message then eat together in the T. E. Pate Family Life Center.